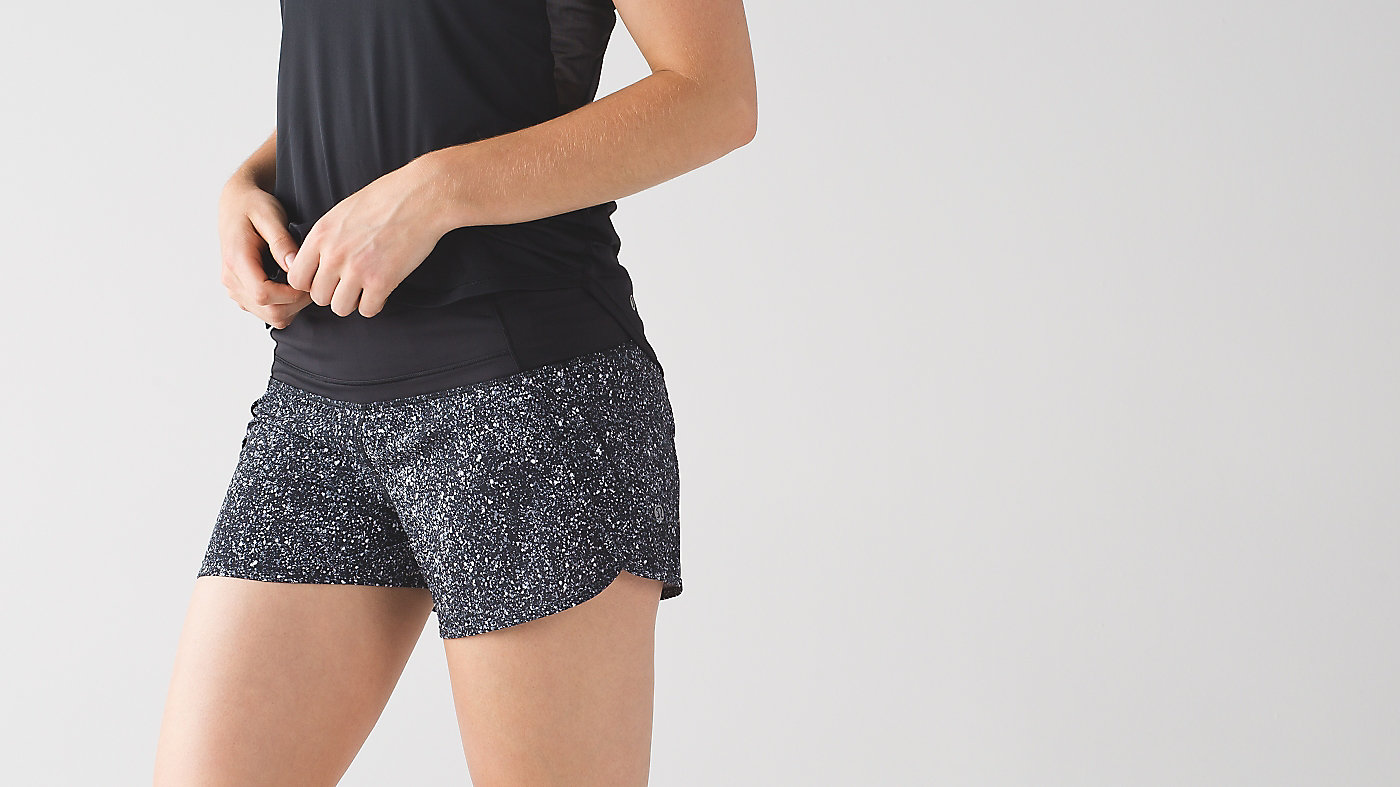 ---
lycra®
Added Lycra® fibre for stretch and shape retention
---
Comfortable waistband
Lies flat against your skin and won't dig in
---
three-pocket waistband
Gives you plenty of storage options
---
relaxed sensation
Gives you the ultimate feeling of nothing in your way—it sits away from your body to give you maximum room to move
---
LIGHTWEIGHT LINER
Lightweight liner for comfort and support
---

Run Times Short
is rated out of
5
by
9
.
Rated

5

out of

5
by
Moss
from
The best shorts!
These are my go to shorts. I also own the shorter Speed Shorts which I love too, but the extra length of these means I can wear them running or training, so they are more versatile for me. On a run, they feel like nothing and the flat, wide waistband sits perfectly. The zippered back pocket fits my regular sized iPhone 7 but it might be tough to fit a larger phone.
Date published: 2017-04-24
Rated

5

out of

5
by
Lulupride
from
Can't live without this beauty!
This is the best short I have come across so far. It is perfect for running, gym, especially cardio. I was falling in love with the speed run short before, but I found the length a bit too short when squatting. After this beauty has come along, i am over the moon with its comfy fabric, length. I wish Lululemon would introduce more colours.
Date published: 2016-07-17
Rated

5

out of

5
by
tans
from
great short for PT's, jog, play, hang out
These are comfortable shorts, handy for cross fit, short runs (prefer seek the heat for longer runs), gym, bushwalking and a generally active lifestyle. The slightly longer length means I can keep them on to dash to shops and sit at cafe post run and not feel like I am in my undies. Great colour range, keep these babies going. The longer length provides a good option to use these as PT uniform on the gym floor (R&D)
Date published: 2016-01-10
Rated

3

out of

5
by
Cookie
from
Please bring in Size 2
I love the shorts, for me it fits better than the speed shorts because the leg opening is about 1.5" smaller, whereas the speed shorts have somewhat of a little flare which I don't fancy due to the wider leg. The only problem is, I have to end up getting the speed shorts, because you don't bring in Run Times Short in size 2! :( Or I have to buy it in the USA and get it couriered over, which doesn't make sense cost wise. PLEASE BRING IN SIZE 2! Thanks
Date published: 2015-10-19
Rated

5

out of

5
by
Gemma
from
Love these shorts. Very comfy and good for everyday use. Fit true to size and love the cool pattern on them. Different and fun. (R&D member)
Date published: 2015-06-30
Rated

4

out of

5
by
lyndaal
from
Good Alternate to Speed Short
I picked these up originally as they had a print that I wasn't able to get in the speed short - they are just as comfortable to wear both in the gym and also for running, slight difference is that these are a little bit longer. I would love if I could get this style in a size 2, then they would be absolutely perfect for me!
Date published: 2015-02-26
Rated

4

out of

5
by
Iliketorun
from
Could be my new 'go to' running short
I've been running for a few years now...I'm in my late 30's, solid build but trying to shrink a bit and have always worn Adidas 6-inch response running shorts or tights. Recently I tried the Nike Rival 6-inch running short too and they were good but like the Adidas, are a discontinued line. So as a runner who enjoys running in longer shorts so they don't ride up and end up under my armpits, I've been frustrated by the sheer lack of long running shorts available...until now, I think. I was a Groovy Run Short fan for my gym workouts, but couldn't run in these - too uncomfortable and I'd get the 'ride up' problem. But after reading some reviews, mainly on the USA LLL site where there are heaps more I thought I'd give these a whirl. Today was the test run day for these shorts and I really liked them. I'm a size 12-14 or M in most clothing items and bought these in a LLL size 10 (Groovy run short 2-way I'm a 10, Groovy run short 4-way I'm an 8). If I didn't tighten the waist these shorts would fall to my ankles...however, I don't think I can afford to go down a size as then they'd be too short and encroaching. I asked my husband if they looked too big and he said they didn't so while I don't have the luxury of trying on a smaller size (I rely completely on online shopping) I will try the 8 when I get a chance in store one day. The run times short seem to be ticking all the boxes. Today's trial run was only 8km's, be interesting to see when I stretch out my distance how they hold up.
Date published: 2014-11-29
Rated

4

out of

5
by
PilatesJunkie
from
Running Only, But Yay for Running
I didn't pick these up with the intentions of wearing them for other reasons other that running/ walking- they are very easy to wear, they dry quickly and have a handy secret pocket. I can honestly say these climb the pile in running short preferences.
Date published: 2014-11-25
Rated

5

out of

5
by
LULUontheFarm
from
From Beach to Bush to Farm paddocks
I'm in LOVE with these Run Times shorts. Comfy, non-restrictive, handy zip pocket, quick drying…. perfect for my lifestyle of going to the beach, bush & back on the farm. With 20+ years of competitive running experience I can honestly say these are the best shorts I have ever worn!! Will definitely be buying more of these awesome shorts.
Date published: 2014-10-28