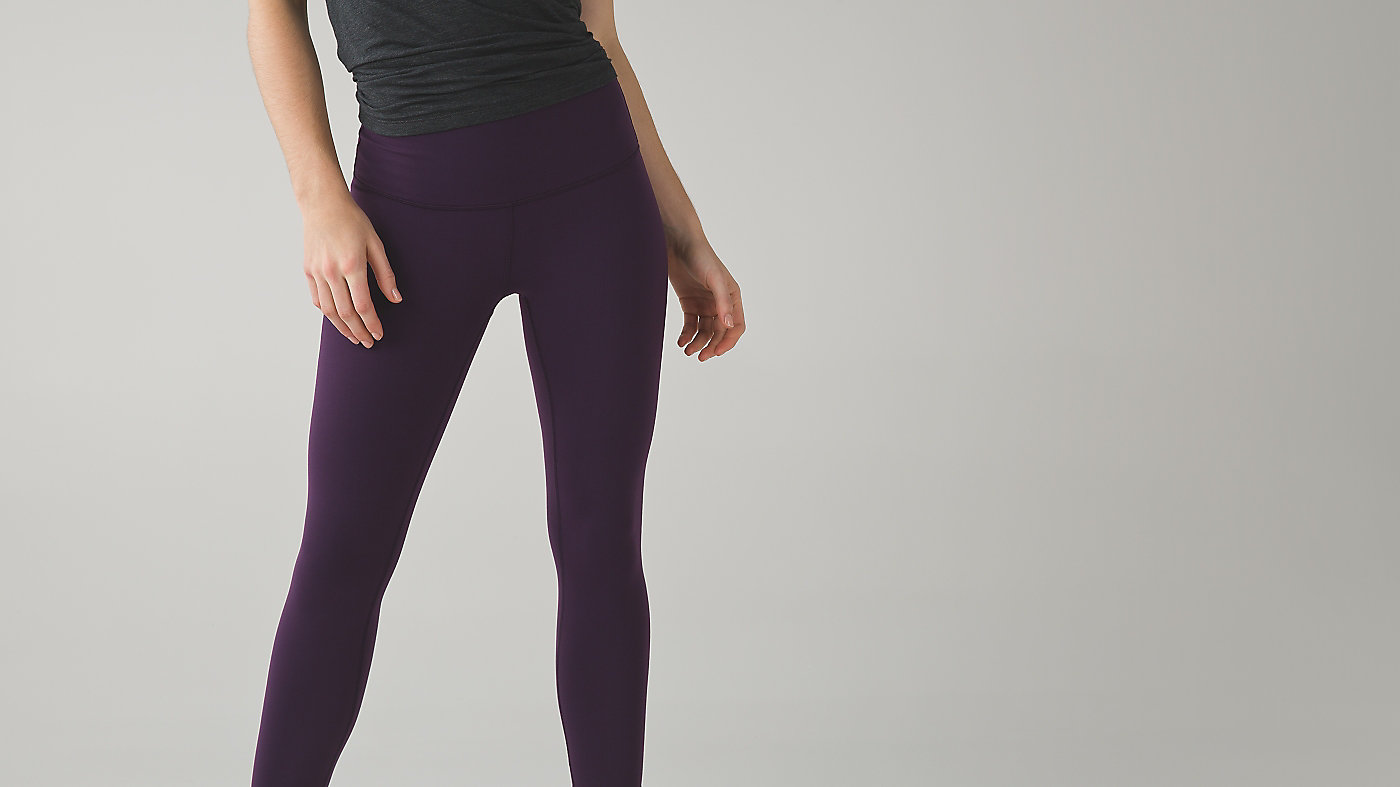 lycra®
Added Lycra® fibre for stretch and shape retention
---
no-dig waistband
Soft, no-dig waistband lies flat against your skin
---
Waistband storage
Pocket on the waistband holds your key or card
---
hugged sensation
Engineered to feel like a comfortable embrace throughout—it holds you close and moves with you

High Times Pant
is rated out of
5
by
26
.
Rated

3

out of

5
by
Lissesee
from
Perfect except for loose stitching
I adore these pants, they are the perfect thickness and cut. Unfortunately, the stitching has come undone on the top band around at my back and I'm afraid to wear them as every time I do it gets worse! Mine also suffered pilling after just a few light yoga sessions. I do recommend these pants but definitely check the stitching before you buy, it's a lot to pay for pants that only last a few months :(
Date published: 2017-03-30
Rated

1

out of

5
by
Apey
from
Really disappointed
I bought the high times 7/8 black leggings less than 2 months ago.. I was recommended the leggings after the really helpful staff at the store encouraged me to try them. At first the leggings were great! and as they were on the top end of my budget, i followed the wash/dry instructions given to me by the staff members religiously. Wash in cold water on a gentle wash and do NOT tumble dry. Less then 2 months later the leggings have completely lost elasticity and i can't actually wear them anymore without having to pull them up constantly. Im really disappointed with this product, that was a lot of money spent!
Date published: 2017-02-02
Rated

3

out of

5
by
LeeB
from
Feels lovely but not long lasting
Lululemon staff recommended these to me in early pregnancy for the comfortable feel and ability to grow with me. These things were true; I love the fit, length and soft material. However, they pilled within a couple of wears and continued to do so. These pants minus the pilling would be perfect and now I'm on the hunt!
Date published: 2016-12-26
Rated

1

out of

5
by
Cocollini
from
High Times Pant
Been loving and purchasing this brand and bought these High Times 7/8 pants. It was good for the first couple of wear and after a few washes the stitching starts coming undone slowly. I have been reading lots of reviews indicating the best quality especially around the stitching and durability but this is just very disappointing and I actually placed the pants in washing bag and the stitching still started to come off.
Date published: 2016-11-08
Rated

2

out of

5
by
TP78
from
Long time devotee of Lululemon BUT this pant fails
Have ever since been a great Lululemon devotee with numerous great purchases. This brand has always been my go to for gym gear. This pair of pant isn't one of them unfortunately: - waistband slips down at every single movement and require pulling up every second - piling after the very first wash Not totally happy given I have paid $119 for a pair of pant that should be another valuable addition to my collection!!! Lululemon what are my options here pls? Can I return them and exchange for something else? Thanks.
Date published: 2016-10-11
Rated

4

out of

5
by
mhb123
from
Best yoga pants, but slightly disappointed with my second pair
I LOVED my first pair of these pants, so much in fact that I bought another pair. My second pair though have started unravelling at the seams, only slightly at first but now quite noticeably - maybe a bad batch? No problems with the first ones I bought around 6 months ago now which are holding up really well (considering I wash them twice a week!). Overall happy though and would purchase again.
Date published: 2016-10-04
Rated

2

out of

5
by
KR090028
from
Very disappointed!!!
After hearing about all the hype regarding lululemon I was so excited to make my first purchase. The pants are are extremely comfy and make your body look amazing! However, after the very FIRST wear the inner thigh part of my tights had pills and anytime I bent over or sat down or basically moved my upper body, the pants would roll down. Considering I paid over $100 for these and the brand's reputation, I would expect a higher quality product that was actually worth my money. I probably won't be buying from lululemon again which is very disappointing because I had such high hopes for their tights!
Date published: 2016-09-07
Rated

4

out of

5
by
Twizzer
from
Good but expected more
I got these pants because I liked the 7/8 length and high waisted band but when I started to wear them I found that the waistband rolled and the pants fall down. They are alright for wearing around the house but wouldn't recommend to get them for the purpose of running or any workout, although I have not tried doing yoga in them yet.
Date published: 2016-07-31
Rated

5

out of

5
by
Bekk
from
Best Tights EVER
Just love these tights. They feel so nice on the skin. They are tight fitting which i love as it makes everything look good LOL. They are like nothing else i have ever worn if i am honest. Want them in every colour. Have had no issue whatsoever with pilling and they have been washed loads of time, accidentally tumbled dried a few times also. They haven't lost there shape or loosened in any way either after the washes. I Have had them for about 5 months now.
Date published: 2016-07-07
Rated

5

out of

5
by
LuluAddict1990
from
Awesome 7/8 pants! But...
Absolutely love my tights there the herringbone pair. Love the feel of them and colour. But please be aware of sizing with these there not all the same. Size down in the herringbone also after 2 washes they have started pulling already. Which sucks as there in my top 5 lulu leggings!
Date published: 2016-06-19