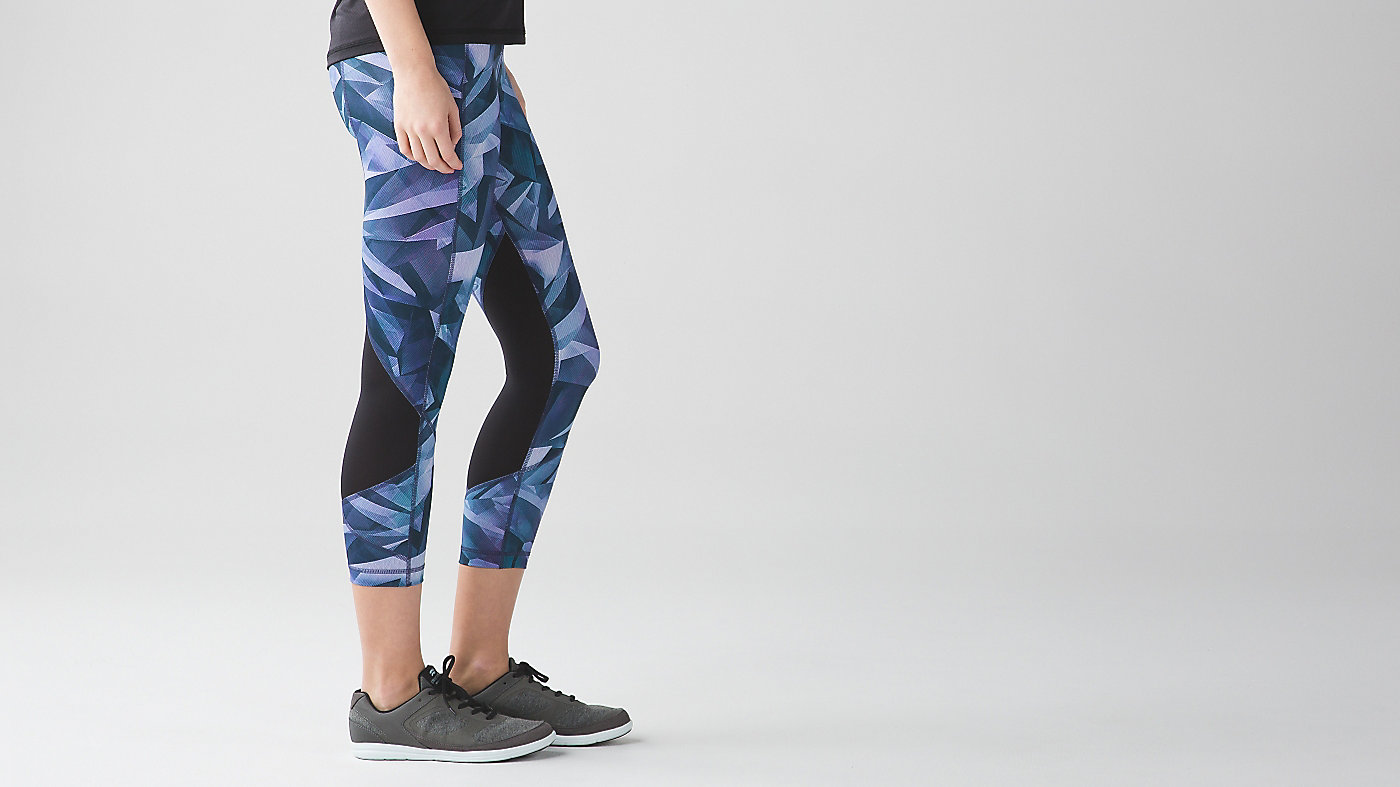 ---
lycra®
Added Lycra® fibre for stretch and shape retention
---
drawcord
Customize the fit with the drawcord in the waistband
---
medium-rise
Higher rise increases coverage and comfort
---
hugged sensation
Engineered to feel like a comfortable embrace throughout—it holds you close and moves with you
---
three-pocket waistband
Gives you plenty of storage options

Pace Rival Crop
is rated out of
5
by
18
.
Rated

1

out of

5
by
FunkyPanther
from
Won't stay up
These are my third pair, and they just won't stay up. I've had them about three months and find them so frustrating. I love my other two pairs which I've had for a year and are definitely 5 star pants, but these, no matter how tight I pull the drawstring these fall down. I seem to spend most of my runs yanking them back up. They've become my last resort pants. Such a shame.
Date published: 2017-08-07
Rated

2

out of

5
by
Elise
from
Keeps falling down
I bought a pair of these last month after trying them on in store. I was really happy with the fit and fabric, and the fact that they have pockets. The first few times I wore them was during resistance training and they seemed great--until I went for a run. Basically, the waist band and legs of the tights fall down every time I try to go running or do some kind of aerobic activity (like body attack classes). The drawstring inside the waistband does nothing to mitigate this issue. The main reason I bought these was because I wanted a good pair of tights for running in hot weather. I'm pretty disappointed to have spent so much money on a product that is unsuitable for what it is marketed as--'versatile run crops'.
Date published: 2017-02-20
Rated

3

out of

5
by
cvee1
from
Great Crops, but already fray-ing
I bought these crops for cross training (circuits/spin/yoga) and LOVE the little pockets on the sides! Nice compression and make you feel hugged in and supported. However after only 6 months they've started fraying at the bottom stitching which is really frustrating as they're over $100! All my other lulu tights have lasted years....
Date published: 2017-01-20
Rated

5

out of

5
by
rock
from
best tights ever
i thought the speed tights were awesome, and then i met the pace rival. thank you to the sales assistant at the emporium melbourne store who picked out a few for me to try. LOVE LOVE LOVE the pace rival crops. i wear them out and about, doing yoga, for hiking, for weight lifting, and i literally would live in them . the mesh is great too for ventilation.
Date published: 2017-01-19
Rated

1

out of

5
by
rllynch17
from
Ready, set, fall down
These would have to be my least favourite lulu tights. When i first bought them they started off great, stayed up and fitted nicely. After the first couple of washes (using your washing guidelines) they lost their shape. Around the ankle was no longer fitted and the waistband just continued to stretch. I have three pairs of these and all have done the exact same thing. Very disappointed especially considering the price tag.
Date published: 2017-01-06
Rated

5

out of

5
by
Caroldip
from
My favourite pair of Lulu tights
I own several different pairs of Lulu tights, all different styles, lengths and feel. These are by far my favourite. They stay in place, don't fall down and I can do an entire HIIT class without adjusting them once. Can't say that about any of my other tights.
Date published: 2016-12-25
Rated

2

out of

5
by
TopGym
from
Something bloomin' wrong with these pants!!
I bought two pairs of these pants. Felt great in-store, but the more I wear them, them more uncomfortable they become. They have stretched to an extra size in the legs, and the waist band is just wrong...I'm constantly fidgeting with it.. And the length is not a crop, yet not a 7/8 either. Definitely not a go-to pant. Very unhappy as I'm normally an avid Lulu fan.
Date published: 2016-12-14
Rated

2

out of

5
by
Melita
from
Worst thing I own from Lulu
I didn't want to be a Lulu addict, but somehow I own more than a fair few things now and these are definitely the worst! I've worn them a few times and washed them twice and the fabric has already pilled quite badly and is starting to lose its shape. Do not recommend!
Date published: 2016-10-17
Rated

5

out of

5
by
Ratster
from
GR8 but beware if you prefer Luxtreme over Power L
Love these crops... Such a great fit and endure the long runs. One disappointing point to watch out for though..if you prefer normal Luxtreme over the Power Luxtreme, as I do, be careful which pattern you order online. The online store has them all listed as Luxtreme but I ordered the Camo blue pattern and it was Power Luxtreme (not normal Luxtreme as listed...the Spary Jacquard pair was normal Luxtreme and they're so soft and comfortable).
Date published: 2016-09-24
Rated

3

out of

5
by
LuluLover93
from
Loved these pace rivals. These pants were my first lulu purchase earlier this year and I was instantly in love, many more pieces followed. The thigh pocket on the side is so practical and absolutely great to run with, as well as the zipped pocket on the back for my keys - so practical. The material and seams are flattering, with no gathering in any undesirable areas! Unfortunately, after a few months of wear I have noticed that the pants had begun to stretch, particularly around the waist band and therefore would require a lot of readjusting whilst I was running or working out, which is less than ideal! I have tried tightening the draw string but unfortunately the pants seem to continue to stretch and fall down. Disappointed as these are definitely not cheap, especially as a uni student!
Date published: 2016-08-22