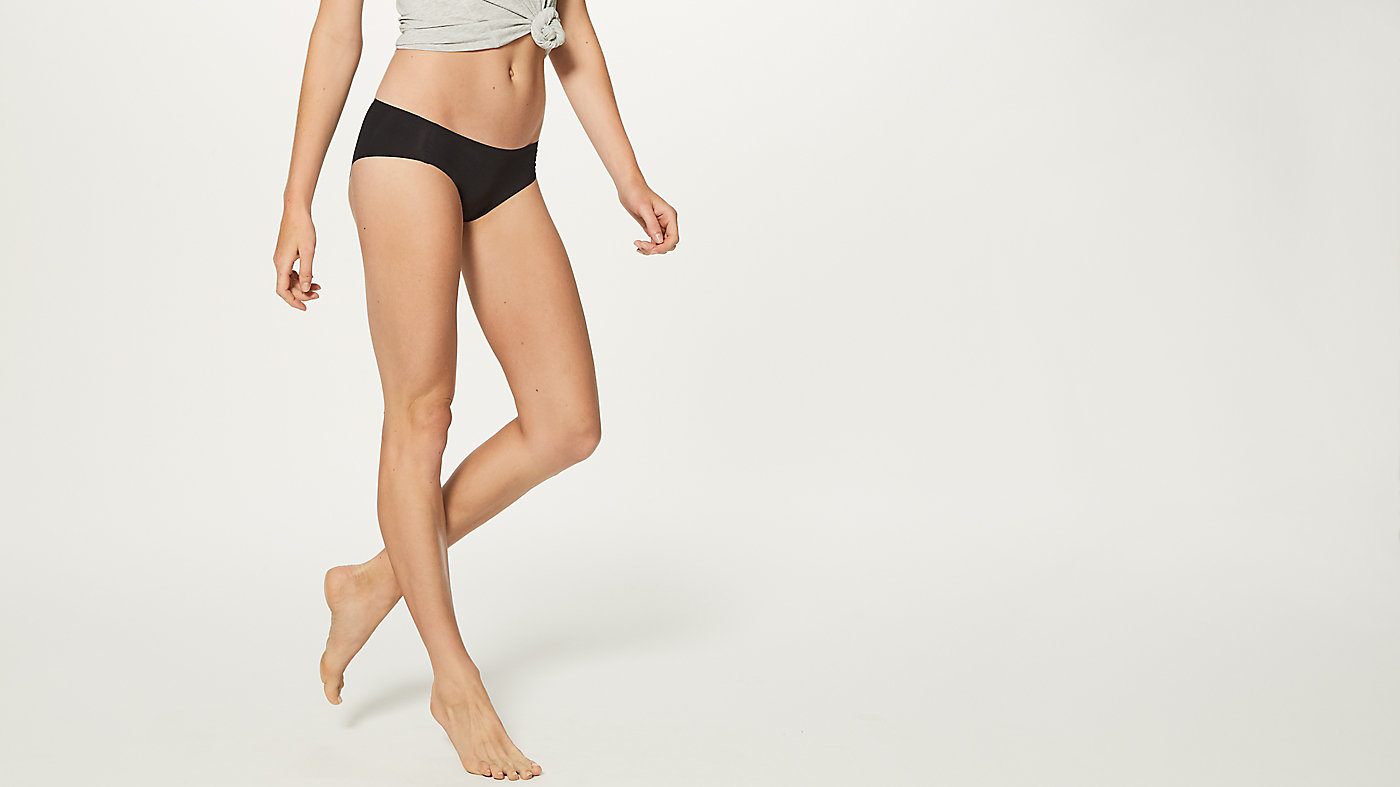 ---
bonded seams
Smooth seams help prevent chafing
---
freecut leg
Helps to minimize VPLs (visible panty lines)
---
bonded gusset
Lets you (and your lady parts) breathe easy
---
CONTOURED FIT
Centre back seam is shaped to fit your body
---
bonded gusset
Lets you (and your lady parts) breathe easy
---
CONTOURED FIT
Centre back seam is shaped to fit your body

Namastay Put Hipster
is rated out of
5
by
9
.
Rated

3

out of

5
by
Tess
from
So smooth, but hasn't lasted long
I was so enchanted when I first put on these underwear! They were silky smooth, breathable, showed no VPL and were just overall great!! However, after a few washes they have already shown signs of wear and tear which is so disappointing considering I thought that they'd change my underwear game for real! Even considered just buying more because they were so smooth however not too sure now because $19 for an item that doesn't last that long!
Date published: 2017-06-06
Rated

2

out of

5
by
TK22
from
Okay to wear under stockings but not good for workouts
The cloth is very soft to touch and feels good on the skin but I am a little disappointed with the product. The hipster rides up even while doing everyday tasks - I do not recommend it for workout wear. I have reserved this underwear for wearing to bed or wearing under stockings (the stockings help them keep in place - most of the time). The underwear fabric has also started losing shape and the colours have started fading after less than 10 washes.
Date published: 2017-03-14
Rated

2

out of

5
by
NW27
from
Namastay Put Thong
I am also a huge Lululemon fan and it's the only brand I wear when I work out. I bought 4 pairs and these underpants in two styles and unfortunately the seams broke after 5 months, as the fabric is glued together. I personally found them comfortable to wear (I am a AU6-8), more so than any other invisible line underpants I've tried as they don't cut into your hips to give you a muffin top outline, but I can't justify the price tag only to have the seams break again in a few months.
Date published: 2016-12-10
Rated

1

out of

5
by
Zenhikeryogirunner
from
So disappointed that I bought these for a 3 month trip - so uncomfortable
I went into the Lululemon store in Melbourne city a few weeks back to purchase more of the other underwear style - the wonderful Mula Bandhawear briefs. I had one pair of these and wanted a further four pairs to take overseas on a 3 month hiking/yoga-ing/walking/climbing adventure. Unfortunately, the educator in the store decided to talk me into buying four pairs of these 'namastay put' underpants. I'm so annoyed about it because I'm now stuck with four pairs of the most uncomfortable, butt riding up, wedgie-giving, underpants and there's no Lululemon on the whole continent that I'm travelling in for me to go in and buy more of the Bandahwear style so I can toss out these awful ones. I wish I hadn't listened to the educator and just gone with what I knew, but she assured me they wouldn't ride up and are super quick dry (that part is true, but so are the Bandhawears - which I'm relying on at the moment so I can keep re-wearing that one pair as often as possible.) Having to consistently pick the fabric from your butt on multi-hour hikes is the actual worst. The 'namastay puts' DO NOT stay put. So you should stay away!
Date published: 2016-12-07
Rated

2

out of

5
by
Donutsanddeadlifts
from
Lots of promise, disappointed in quality
I have about 10 pairs of these undies! While I love them because they're super light and comfortable, seamless and feel nice, they aren't the kind of undies you can wear every day. The seams busted on two pairs while I was travelling recently and I found small holes in another 2 pairs. They also stretch out over time. Im a huge lulu fan and own so much stuff but not sure I can justify $19 a pair to only get a couple months out of these!
Date published: 2016-08-28
Rated

5

out of

5
by
Maitai
from
My holy grail of knickers
I have been looking for these knickers for years. They are perfect, nice and thin with no seams so no panty lines. Enough coverage that they don't ride up (I'd almost prefer them to be a bit more low-rise in the back but it's no biggie). Super comfortable and don't look like grandma undies. Win win all round - I need 100 pairs!!
Date published: 2016-08-20
Rated

1

out of

5
by
Spotty
from
Not what I was expecting
The sales assistant told me these would be perfect under tights. 'Great! Just what I need, I thought" however they aren't what I need. I need undies that won't ride up my bum when I'm wearing them.
Date published: 2016-08-09
Rated

1

out of

5
by
braid
from
Looses shape and rolls
I agree with previous review, very disappointing for $19... Don't recommend it to wear with tights as it doesn't stay and edges roll up giving you awkward lines. Waist band ask lost shape after first wear and is now loose.
Date published: 2016-06-04
Rated

2

out of

5
by
RunningMom29
from
Doesn't stay put
Disappointed in these hipsters. Although they are comfortable and the color is great the edges roll and do not stay in place. The rolling edges then become visible under my tights. For $19 a pair I would expect better quality.
Date published: 2016-03-29